Vincent Bugliosi, famed prosecutor who put away Charles Manson for the Tate-LaBianca murders, has written what is indisputably the longest book defending the Warren Commission's conclusion that a lone nut, Lee Harvey Oswald, shot JFK. Weighing in at 1,612 pages, and a CD that has an additional 1,159 pages of footnotes, Mr. Bugliosi makes a strong case.
That is, if you don't know the evidence.
Mr. Bugliosi lists 53 reasons that "proved Oswald's guilt," and I'd like to go through them one by one, and show that they do no such thing. Please keep in mind that I've abbreviated most of Bugliosi's points, and lest I be accused of being misleading, I've actually taken the abbreviated list from McAdam's Forum - a Warren Commission Believer compiled this list. I've been careful to expand the point Bugliosi was making on occasion for more accuracy - but I've not shortened any of these...
---
(1)

Oswald always visited Marina in Irving on a Friday. Nov 21 was the first Thursday visit ever.
Background: Oswald and Marina were married, but living apart at the time. Oswald almost always spent the weekends with Marina, but didn't usually visit midweek.
On the day before President Kennedy was assassinated, Oswald went to Irving Texas to visit Marina.
The Warren Commission and Vincent Bugliosi wish to argue that because this was an unique event, it had to be related to Oswald picking up a rifle to kill the President with. (this is, in fact, exactly what Bugliosi asserts.) If Oswald had visited midweek before, this argument loses much of it's force.
And, in fact, Bugliosi is lying about Nov 21st being the 'first Thursday visit ever.' Nor is it the first midweek visit. It's true that such midweek visits weren't common - but it's a lie to state that they never occurred.
Let's examine the evidence that Bugliosi surely knew of:
"Mrs. Tarrants stated as best as she recalls, on Thursday night, October 31, 1963  LEE HARVEY OSWALD appeared at the cashier's cage and presented the above check to her and requested that it be cashed." (CE 1165 pg 6)
http://www.history-matters.com/archive/j...E_1165.pdf
While this is certainly short of absolute proof of a prior Thursday visit, it's also certainly evidence of one. Evidence that Bugliosi surely knew of, and has not refuted. So he knew he was lying when he tried to make the claim that Nov 21st was the 'first Thursday visit ever.'
Oswald is also known to have gone back to Irving on a Monday, Oct 21, after the birth of his second child. Bugliosi surely knew this from the testimony of witnesses before the Warren Commission.
Lying about the known evidence in order to 'create' evidence for your belief isn't very convincing.
It's CERTAINLY not proof that Oswald murdered JFK
.
---
[imgright]http://conspiracyjfkforum.com/images/Oswalds%20Apartment.jpg[/imgright]
(2)

Oswald's claim to be getting curtain rods in Irving was an implausible lie.
No, it wasn't. We know now that chances are quite good that there were no curtains up in Oswald's apartment, as we now know of photos taken Saturday morning showing curtain rods being put up.
It's interesting that Bugliosi goes on to state: "Indeed, Allen Grant, a photographer for Life magazine, took a photo of Oswald's room on the afternoon of the assassination, and it clearly shows the curtain rods that were already in his room."
But he ALSO certainly knows about the photos taken the following morning, showing curtains being installed. (using a hammer to do it!)
You can find the rest of the photos
here.
So what's the story? Bugliosi is certainly unwilling to go there.
As well, Dallas Police archives have now shown photographs of curtain rods that have been dusted for fingerprints... So the claim that there were no curtain rods ever found in this case is simply not true.
http://jfk.ci.dallas.tx.us/
Quote:Originally, the index for the City of Dallas Archives stated that Box 8, Item one consisted of: "Form requesting fingerprint check on curtain rods.  (The attached fingerprint cards were removed for conservation and preservation by the archivist.)  To view these cards see photograph albums" - if you go to http://jfk.ci.dallas.tx.us now, and look in Box 8, you'll see that the photos have been moved to Box 12, folder 53... and for purposes of preservation, this is what it says as of the time I'm writing this:



Quote:Box 12, Folder 53

2. Fingerprint Record, by an unknown author.  Fingerprints taken from curtain rods, negative number 91-001/253, 91-001/254,  91-001/255, and 91-001/256, (Original), 03/25/64. 00004202          4  pages  12  53  002   4202-001.gif  4202-002.gif  4202-003.gif  4202-004.gif

This is an item that was never dealt with by the Warren Commission or any of it's supporters.
Bugliosi in fact lied at this point, when he stated that no curtain rods had been found. He cites Roy Truly – who was asked nearly a year later, on Sep 1st 1964 – but the DPD had in its files curtain rods that had been dusted for prints. And as Roffman has pointed out: Rankin ordered that Truly be interviewed "
in order to establish that no curtain rods were found in the [Depository] following the assassination.
" The Warren Commission wasn't interested in finding the curtain rods that are provably involved in this case... they were interested in documenting that there
weren't
any curtain rods found. Once again, Bugliosi is simply lying about the evidence in order to fabricate his case.
We also don't know that Oswald made this claim. Since his statements under questioning were never recorded, all we have is testimony from a few who questioned Oswald, (that he denied this 'curtain rod' story) and a few notes that have surfaced many years later. We also have testimony from Frazier, whom we now know had his rifle confiscated, and who was run through a lie detector test late that evening. I suspect that someone who was clearly on the edges of being labeled a suspect in this case was willing to say whatever needed to be said to avoid that. You won't hear a believer stating that Frazier is the ONLY person who made the claim that Oswald said anything about curtain rods.
It's long been a factoid passed around by Warren Commission Believers that there weren't any curtain rods to be found... there certainly were. Chances are quite good that Oswald never said what Frazier ALONE attributed to him – but the curtain rods
that WERE found and fingerprinted have never been explained
.
And what is basically a dispute between two men as to what was actually said, can hardly be used as evidence of murder. The presumption that Frazier was telling the absolute truth – therefore Oswald is guilty of a lie, and thus would murder the President, simply doesn't bear any weight.
---
(3)

Oswald told Frazier he would NOT be coming back to Irving on Friday night.
First point... this is hearsay. It's also interesting to note that Frazier was very nearly arrested for the murder of JFK... his British Enfield 303 rifle
was confiscated
, and he was subjected to a forced lie detector test.

British Enfield 303 Rifle
As well, Why would this be strange??? When Oswald got a ride with Frazier to go to Irving on a Thursday, it didn't mean that he was required then to also come back on Friday and stay the weekend. What Bugliosi is doing here is starting with the presumption that Oswald is guilty, then defining everything he did and said as evidence of the guilt he's already started with.
Bugliosi knows very well that Oswald, while frequently visiting Marina on the weekends, did not ALWAYS visit on the weekends.
Interestingly, it seems that Oswald had intended to visit on the weekend, just not Friday night... from Marina's testimony:
Mr. RANKIN. When he said he would not be home that Friday evening, did you ask him why?
Mrs. OSWALD. Yes.
Mr. RANKIN. What did he say?
Mrs. OSWALD. He said that since he was home on Thursday, that it wouldn't make any sense to come again on Friday, that he would come for the weekend.
"
that he would come for the weekend.
" - this one little snippet belies the notion that Oswald had some sort of nefarious plan that would prevent him from visiting Marina –
HE WAS PLANNING ON DOING SO
.
This is a common theme among Warren Commission Believers – presuming Oswald's guilt, then going back and looking at everything he did or was presumed to have done in light of that guilt – portraying all actions as 'proving' the presumed guilt. But nothing Oswald did or said is contrary to his innocence, although no believer would admit this fact.
Attempting to use hearsay of a man's future actions that have nothing whatsoever to do with murdering someone to 'prove' that he murdered the President is just another example of this reoccurring theme of presuming first the guilt, then examining all actions and statements to "prove" that guilt.
---
(4)

That night Oswald avoided Kennedy talk with Marina, a subject it was their custom to discuss.
How silly! I ask readers - how many times do you FAIL to bring up, or discuss a topic? I'd be sentenced to multiple death sentences if this is all it took as evidence of crime. Bugliosi is clearly stretching in order to find "evidence" that Oswald was guilty.
Again, the same theme as I've mentioned before – presuming a person's guilt, then looking at all actions or statements as 'proof' of that guilt.
There are MILLIONS of people worldwide who last night did not discuss a favorite topic... should we expect to see a few million murders today? Yet this is the logic that Bugliosi employs.
---
(5)

Friday morning, Oswald left almost all his cash and his wedding ring in Irving.
This is by no means a certain issue. We don't even know who found the ring ... the earliest report stated that the police had found it. 22H764 (CE 1401) - Then we have both Marina finding it 23H399 (CE 1787) and 23H475-476 (CE 1820), and Ruth Paine finding it 3H111-112
Marina had testified that Oswald didn't like wearing his ring when he went to work, due to the width of the ring:
Mr. RANKIN. Had your husband ever left his wedding ring at home that way before?
Mrs. OSWALD. At one time while he was still at Fort Worth, it was inconvenient for him to work with his wedding ring on and he would remove it, but at work--he would not leave it at home. His wedding ring was rather wide, and it bothered him. I don't know now. He would take it off at work.
As for the cash he left, it's sheer speculation that this was "almost all his cash". As anyone married knows, his wife and children needed more money than he did. I find it particularly amusing that financially caring for his family is turned into evidence that he murdered the President.
I can't even recall how many times I've left my ring at home... but I've not been charged with shooting the President yet...
---
(6)

On Friday morning, Oswald placed a long paper-wrapped package in the back seat of Frazier's car.
Until you can put a rifle in that package, it does *nothing* to indict Oswald. It's also worth noting that every witness who saw that package, and testified about it, stated that it was too short to contain a rifle. Their testimony is quite compelling, because of the way that they stated Oswald had carried the package, with his palm under the package, and the top of the package was UNDER his armpit.
Now, either Oswald had the arms of an Orangutan, or the package wasn't long enough for the Mannlicher Carcano that Bugliosi believes it contained.
Since Bugliosi already lied about curtain rods not having turned up in this case - one can legitimately wonder if Oswald would have
stopped to tie his shoelaces
, it would have ended up in Bugliosi's list of evidence...
Again, the theme of presuming Oswald's guilt – THEN using everything he did and said as evidence of that 'guilt'. We're seeing this theme over and over again.
---
(7)

Frazier noticed that for the first time on a return trip from Irving, Oswald brought no lunch.
Most statements from Frazier can be credibly debated... he was a suspect in the case, and had his rifle confiscated, and was ran through a lie detector test that night. (CE 2003 pg. 183) Oswald said he ate lunch, and others saw him eating lunch.
So where did the lunch come from?
Frazier was certainly in a quandary – he couldn't claim he saw Oswald with a paper bag (that was too short to have a rifle), and a SECOND paper bag containing his lunch. A choice had to be made.
But we KNOW that Oswald ate lunch. Now, he could conceivably have purchased it, but as Frazier admits, Oswald ALWAYS brought his lunch – at least to his knowledge:
Mr. BALL - Do you remember whether or not when Oswald came back with you on any Monday morning or any weekend did he pack his lunch?
Mr. FRAZIER - Yes, sir; he did.
Mr. BALL - He did?
Mr. FRAZIER - Yes, sir. When he rode with me, I say he always brought lunch except that one day on November 22 he didn't bring his lunch that day.
Here's a perfect example of where Warren Commission believers – faced with competing 'facts' – will always choose the one that supports their theory. We know that Oswald ate lunch, we know he is known to have regularly BROUGHT his lunch... but you need the rifle to come into the building somehow (despite the fact that there were a couple of rifles in the building just a few days earlier... not very difficult to bring rifles in!) - so you had to co-opt Oswald's lunch bag to serve as a rifle case.
Now, the obvious question – where did Oswald get his lunch – can be reasonably answered, perhaps he bought it from the 10am catering service... but here we have speculation instead of evidence.
And speculation isn't evidence of ANYONE'S guilt.
---
(8)

On arrival at the TSBD, Oswald walked faster and ahead of Frazier for the first time ever.
Silly! Since when does "walking fast" have anything at all to do with indicting someone??? Sometimes Bugliosi really stretches to try to find something to 'prove' Oswald's guilt, this is a good example of his tendency to do this. As I said, it's a good thing no-one saw Oswald tying his shoelaces... as this list would have 54 items instead of 53.
Again we see the theme of presuming guilt on Oswald's part, then pretending that everything he did and said shows that guilt. Since when does "walking fast" show guilt of anything at all???
---
(9)

For the first time ever, Oswald didn't read the paper in the TSBD domino room.
You have to go to the endnotes to find out where Bugliosi pulled this "fact" from... here's the relevant testimony:
Mr. BELIN. Did you see him reading the newspaper?
Mr. GIVENS. No; not that day. I did--he generally sit in there every morning. He would come to work and sit in there and read the paper, the next day paper, like if the day was Tuesday, he would read Monday's paper in the morning when he would come to work, but he didn't that morning because he didn't go in the domino room that morning. I didn't see him in the domino room that morning.
Now, Bugliosi wants us to believe that because Givens didn't recall Oswald reading a newspaper on a specific day 5 months earlier – that he was guilty of murder.
But we KNOW FROM THE TESTIMONY that he was eating lunch. Bugliosi wants to imply that Oswald was busy constructing the 'snipers lair' – but he dare not assert it, because he KNOWS that there's testimony putting Oswald downstairs eating lunch.
But let's look at a statement from the
FBI report
of Griffin & Odum, from 11/23/63: "
On the morning of November 22, 1963, GIVENS observed LEE reading a newspaper in the domino room where the employees eat lunch about 11:50 A.M.
"
Givens testifies that he saw Oswald at 11:55 on the 6th floor, and never saw him again... technically true, he'd earlier reported seeing Oswald 5 minutes EARLIER reading the paper.
I daresay that there were quite a few employees at that building that never saw Oswald reading a newpaper that day... but not seeing Oswald after 11:55 – and claiming therefore that he wasn't reading a newspaper, is something only a Warren Commission believer can accept.
And another excellent example of presuming guilt, then taking any action or speech to 'prove' that guilt.
---
(10)

Oswald's pretense with a co-worker that he didn't know JFK's route
Sheer speculation on Bugliosi's part
. Before you can label this a 'pretense', you must show that Oswald knew for a fact that JFK would be passing in front of the building. Bugliosi has been unable to do this.
This is another example of presuming guilt, then taking any action or speech to 'prove' that guilt.
---
(11)

Howard Brennan saw Lee Harvey Oswald fire the third shot that killed the President.
This is an outright lie on Bugliosi's part
. Bugliosi knows quite well that Howard Brennen refused to identify Oswald, and indeed, described an assassin that CANNOT match Oswald.
It's true that months later, Brennan claimed that he really HAD identified Oswald, but was afraid for his family that other conspirators would harm them if he identified Oswald - but this really makes no sense... because Brennan made the effort to come forward. He also described the assassin wearing light colored clothing - Oswald, of course, wore dark clothing.
It's more reasonable to accept that Brennan was pressured in the intervening months to identify Oswald.
And Warren Commission Believers would have you accept that Brennan could accurately identify a face, yet completely miss the COLOR of the clothing.
---
(12)

Kennedy's assassin was at the now-infamous sixth-floor window.
Unless you can put Oswald there, this has nothing whatsoever to do with indicting Oswald. This is like saying "Jessica Simpson's assassin was in the yard." - that doesn't indict O.J. Simpson - and had the prosecution tried to make such an assertion, he'd have been laughed out of the court. That Bugliosi can make such a statement shows his desperation... As I stated before, Bugliosi has a tendency to try to view ANYTHING as proof of Oswald's guilt.
---
(13)

During interrogation, Oswald put himself on the sixth floor at the time of the assassination.
This is a rather outrageous
untruth
that Bugliosi is making here. It's true that Oswald was possibly one of the last to leave the 6th floor, sometime around 12 noon, where he was working that day - but he was seen by others, such as Arnold, on the first or second floor after 12 noon.
That Bugliosi has to lie to make his case shows just how weak these '53 Reasons' are.
---
(14)

Oswald's story of getting a Coke after hearing commotion of assassination is not sensible.
Sheer speculation with *NO REASON*. We know for a FACT that several people saw Oswald with a coke. So this is a well established fact. Trying to assert that 'getting a coke' is somehow evidence against someone in a murder is just too silly for words.
Bugliosi's presumption of guilt, then his tendency to look at any and every event, and assert that it proves Oswald's guilt, is quite evident here.
---
(15)

It makes no sense that Oswald the "political animal" had no interest in the President's death.
More speculation with no foundation at all. While I took the time to go and stand at the curb while President Reagan's hearse drove by, I had zero interest in going even a few blocks to see President Obama. Does this mean that if an assassin were to make an attempt on the President, that I'm a valid suspect?
Bugliosi is claiming that Oswald had a crystal ball - and knew that President Kennedy was going to be assassinated. How many people never bothered to go and watch JFK drive by - who would have had they known it was his last day on Earth?
Are they all guilty of murdering the President for failing to show interest
???
---
(16)

After the assassination, only Oswald missed a roll call at the TSBD.
This is an outright lie on Bugliosi's part
... and it shouldn't have taken him 20 plus years to correct this.
Jack Charles Cason - President of School Book Depositary - left the building at 12:10 p.m. and went home. (VOL:22:P 640)

Gloria Jean Holt - clerk at TSBD - did not return after shooting. (VOL:19:P.526) (VOL:22:P.652)

Sharon Simmons Nelson, Secretary, (VOL:19:P.256;VOL: 22-P.665) did not return.

Bonnie Richey, Secretary, (VOL22:P.671) did not return.

Carolyn Arnold (VOL:22:P.635) did not return.

Mrs. Donald Baker, Clerk, did not return (VOL:22:P.635)

Judy Marie Johnson (VOL22:P.256) did not return.

Mrs. Stella Mae Jacob (VOL:22:P.665) did not return.

Charles Givens did not come back.

Virginia H. Burnum - McGraw-Hill employee does not return (VOL:22:P.636)

Vida Lee Whatley, Clerk, does not return.(VOL:22:P.680)

Warren Caster (VOL;22:P.641;VOL 26:P.738) eating lunch in Denton.

Spauldin "Pud" Jones (VOL:22:P.658) eating lunch at Blue Front with Herbert Junker (another McMillan employee) (22:659)

Mrs. Helen Palmer, clerk, (VOL:22:P.666) not present was at Love Field.

Franklin Kaiser - was absent from work on 11/22.(VOL:6:P.342), (VOL:23:P.751)

Vicki Davis, employee, was absent.

Dottie Lovelady, employee, was absent.

Mrs. Rudell Parsons, employee, was absent.

Joe Bergen, Scott Foresman, absent.

Maury Brown, McGraw-Hill, absent.

John Langston, absent.

Bugliosi does admit that Charles Givens was absent, but strangely doesn't note that an APB went out to locate Givens. It's long been a factoid for Warren Commission believers that there was a 'roll call,' and that only Oswald was absent from it - but this is simply untrue, and should have been put to rest long ago.
That Bugliosi has to bring forth such obvious factoids to 'prove' Oswald's guilt is just another illustration of how weak his case is.
---
(17)

Oswald walked past his normal bus stop and walked seven blocks to board a different line.
Sheer speculation... The evidence that Oswald got on a bus isn't very credible. There are three witnesses to Oswald getting on a bus... let's examine them:
Mr. McWatters, bus driver - according to the Dallas Police (CE 2003, pg 293) McWatters identified Oswald as the one on the bus... but according to his testimony, he thought a teenager named Milton Jones was the one he saw. He also testified that he picked up "Oswald" at Elm & Houston – although Bugliosi argues that Oswald walked past that bus stop. McWatters also gave Oswald an alibi in his earliest statement – his affidavit puts Oswald off the bus later than the Tippit murder.
Mary Bledsoe - former landlady for Oswald - testified that she'd seen Oswald on the bus, "looking like a maniac," his shirt undone, his "sleeve was out here," he was dirty , he "looked so bad in his face, and his face was so distorted." Mrs. Bledsoe clearly despised Oswald, and could hardly be considered a credible witness in her description. She also gives evidence that she was NOT on the bus at the time, since there's a critical anachronism found in her testimony:
Mr. BALL - Was there traffic? Was the traffic heavy?
Mrs. BLEDSOE - Oh, it was awful in the city, and then they had roped off that around where the President was killed, shot, and we were the first car that come around there, and then all of us were talking about the man, and we were looking up to see where he was shot and looking---and then they had one man and taking him already got him in jail, and we got----"Well, I am glad they found him."
Mr. BALL - You were looking up at where?
Mrs. BLEDSOE - At where the boy was shot.
Mr. BALL - You mean the Texas Book Depository?
Mrs. BLEDSOE - Yes, uh-huh.
Mr. BALL - School Book Depository?
Mrs. BLEDSOE - Uh-huh, because we were right four blocks from there, you see.
As Don Willis has pointed out: No one just entering Dealey, on a bus, around 12:40pm, would have been "looking up" at the depository, as a scene of shooting. The building had been mentioned only on the police radio, at that point, not on public TV or radio. And the area had not yet been "roped off", as Mrs. Bledsoe said that it was when they passed: "By approximately 1:00 the crowd is kept back from the front of the [depository], though not yet behind rope barricades" (photo caption, page 519, "Pictures of the Pain").
This anachronism shows that Mrs. Bledsoe was hardly a credible witness at all.
Milton Jones, a 17 year old - who stated that a person who might have been Oswald got on the bus about 6 blocks before Houston Street (Did Oswald walk six blocks before getting on the bus?). This is in direct conflict with McWatter's testimony. The only reason that Milton Jones gave for his belief that he'd seen Oswald was a conversation he had with McWatters the following Monday - where McWatters said that the man they'd both saw might have been Oswald.
http://www.history-matters.com/archive/j...E_2641.pdf
So all we have here is second-hand corroboration for McWatter's statements, not an independent identification of Oswald.
It's interesting to note that both McWatters and Jones stated that this person had a blue jacket on. Jones said: "Light blue", McWatters said "faded blue". And yet, a blue jacket alleged to belong to Oswald was found at the Texas School Book Depository a few weeks later.
Mary Bledsoe, the least credible witness, asserted that he had no jacket on - and the Warren Commission accepted this - despite having two credible, corroborating witnesses that described someone who could not have been Oswald. She was also reading off notes during her Warren commission testimony - prepared by Secret Service Agent, Forrest Sorrels. When Warren commission counsel, Joseph Ball, asked her why she had notes, she responded: "
Well, because I forgot what I had to say.
"
Note that Milton Jones accepted thought that the man he'd seen was Oswald because McWatters thought it was, yet McWatters testified that it was Milton Jones he'd seen!
The evidence for Oswald getting on the Marsalis bus has been all but refuted.
And certainly, Bugliosi's claim that Oswald walked past his normal bus stop rests on unbelievably shaky grounds.
Hardly the sort of "evidence" one would normally look for in determining the guilt of someone. And, like a failure to read a newspaper, taking a long walk (even if true) would hardly be evidence of murder...
---
(18)

Oswald left the Marsalis bus when it got caught in traffic.
Presuming that Oswald was on a bus, it's not exactly evidence that he murdered someone if he gets off the bus. It's merely historical FACT that everyone who was on that bus got off of it that same day, and likely within an hour or so - does this make them all suspects???
It's merely speculation that someone got off the bus -due to traffic- ... nor would it be particularly strange for someone to do so if they weren't willing to wait.
Nor is it particularly well established that he was even *on* the bus.
One question that is rarely raised is why would Oswald get on the Marsalis bus in the first place? The nearest this bus would take Oswald to his rooming house on North Beckley is seven blocks away. Oswald regularly used public transport, as he didn't drive and had no car. Public transportation has schedules. Anyone regularly using the bus generally knows these schedules. Knowing the schedules helps one to not be fired from work. Oswald must have known the schedule of the Beckley bus. It left the St Paul transfer point at the same time as the Marsalis/Munger bus that Cecil McWatters was driving. That time was 12:36pm. McWatters claimed that he was probably ahead of the Beckley bus because he couldn't see it in front of him. If Oswald was heading back to his rooming house why would he get a bus that didn't take him there? Especially if the one that did take him all the way home was probably right behind it?
And, if we accept the EARLIEST account, that of McWatter's Affidavit – then Oswald being on the bus is an alibi for the Tippit murder... because he let Oswald off the bus AFTER the Tippit murder.
http://texashistory.unt.edu/ark:/67531/m...8646/m1/1/
(Interesting also to note: McWatter's 11/22 Affidavit speaks of JFK being struck in the "temple".)
---
(19)

Oswald's not speaking to the cab driver about the assassination is striking.
No, it's
NOT
striking. This is simply another silly statement by Bugliosi... showing yet again his tendency to draw guilty conclusions from virtually any fact.
Nor is it particularly credible that Oswald even TOOK this taxi... how credible would you judge the taxi driver's assertion that his passenger was wearing
TWO
jackets?
It was a necessity to get Oswald off the bus and into a taxi when it became clear that the bus would have given Oswald an alibi for the Tippit murder. But, as we've seen, it's by no means certain that Oswald was on the bus, and certainly far less evidence that he ever took a taxi that day.
---
(20)

Oswald had the cab drive past his residence, dropping him off down the road.
This is sheer speculation that isn't based on the evidence... chances are quite good that Oswald
never even took a taxi
. Indeed, this particular evidence would tend to show that it wasn't Oswald who took the taxi.
Once again we see the presumption of guilt, then an attempt to force the evidence into supporting this 'guilt'.
---
(21)

Oswald's behavior at his boarding house indicates a flight in progress.
Changing clothes when getting home from work is something that
I do on a regular basis
... should I now be indicted for murder? He changed clothes, then walked across the street, and was last seen waiting at a bus stop.
What part of this is evidence of a "flight in progress?"
It's interesting to note that when District Attorney Wade, on Sunday night, held a press conference and described how Oswald had taken a bus - one incredulous reporter asked the question: "
Mr. Wade, is this the first time the Dallas Transit Company has ever been used for a getaway car?
"  (CE 2170)
Think about that for a moment... you've just murdered the President, and you "flee" in public transportation... and the fact that you've taken a bus is "behavior" that tends to show that you're guilty of murder...
You can't make up stories like that!
---
(22)

Oswald retrieved his revolver at the rooming house.
What was his habit in this regard? Can you give any reason that this differs from his normal routine? It's a fact that the 2nd amendment gives citizens the right to bear arms. Texas is a state where
many people routinely carry arms
. Are they all suspects when a murder takes place?
---
(23)

In addition to getting a coat and his gun, Oswald changed trousers.
Answered above in #21. Changing clothes after leaving work means nothing at all. He wasn't a murderer who needed to remove blood-stained clothing. That Bugliosi would attempt to assert that changing clothes after work when arriving home is evidence of guilt means
that most of us are suspects
.
Do
YOU
change clothes when you get home from work? If so, you'd better turn yourself into the local police, for I'm sure there's an unsolved murder somewhere in your vicinity.
---
(24)

Lee Harvey Oswald murdered J.D. Tippit.
Sheer speculation. There's very strong evidence
AGAINST
such a claim. The assertion that Oswald murdered Tippit would take far more time than I can spend here to refute - but a search on the Internet will quickly show you reasons why Oswald can't be a suspect here. Briefly:
First, let's establish that Oswald's landlady stated that she'd seen Oswald waiting for a bus outside his roominghouse at 1:04  
http://www.history-matters.com/archive/j...ts_aff.pdf
The time that Tippit was killed can be very closely pinpointed... Helen Markham, stated it was at 1:06, and she was waiting for a bus that left at 1:12. So if the Warren Commission was correct that Tippit was killed at 1:15 - Helen Markham could not have been a witness. The only witness who stated that he actually looked at his watch, Mr. T.F. Bowley, said that the murder happened BEFORE 1:10.
http://jfk.ci.dallas.tx.us/28/2819-001.gif
Once established that the murder took place much earlier than 1:15 claimed by the Warren Commission, you will be faced with the problem that Oswald was 9/10ths of a mile away, at a bus stop, just minutes before the murder. He must have driven to the scene of the crime, (no witness reported the suspect driving), or ran the distance.
I invite you to type 1026 North Beckley into Google, and trace out for yourself how long it takes to get from where Oswald was last seen, and where Tippit was murdered. You'll discover that Google lists it as a 15 minute walk. Which means that he couldn't have been at the scene until approximately 1:19.
https://www.google.com/maps/dir/32.74736...557948!3e2
Now, there's quite a bit more evidence that merely this against the supposition that Oswald killed Tippit, but it would take pages to go through... so I'll leave it at this.
But until you can PROVE that Oswald murdered Tippit, you cannot use the presumption of guilt here to 'prove' that he murdered JFK.
---
(25)

A store manager saw Oswald evading police sirens in front of his store.
Again, sheer speculation. Indeed, in court, this would have been objected to - as the store manager could not
possibly
have known what was in the person's mind... who needs to first be identified as Oswald.
---
(26)

The cashier at the theater said that Oswald had "ducked in" to the theater without buying a ticket.
I'm amused that Bugliosi now pretends that
how a witness describes someone's actions
can now be used as evidence that he committed murder. Bugliosi knew better than that.
Vincent Bugliosi was an experienced prosecutor - HE KNEW BETTER THAN THAT!
The 'action' described is Oswald walking into a theater... the "ducking in" is the opinion of Julia Postal. What Julia Postal
thinks
of Oswald's actions (even
presuming
that it is Oswald), cannot possibly be used as evidence against Oswald... and Bugliosi knows this.
And, as with many of the other 53 reasons, it has
ABSOLUTELY NOTHING WHATSOEVER
to do with guilt or innocence in a murder case.
What Bugliosi is guilty of is a circular argument... Oswald is guilty, thus all of his actions must relate and prove that 'guilt'.
---
(27)

When approached by police in the Texas Theater, Oswald said "Well, it is all over now."
Sheer speculation. There are, in fact, quite reasonable explanations for such a statement, if indeed he made this exact statement. Only Patrolman M. N. McDonald heard these words, other officers fail to corroborate this statement.
Bugliosi speculatively asks: "
What else could he have possibly meant by those words other than that he knew the police had been in pursuit of him and were there to arrest him?
"
I'll answer that question quite reasonably. He knew that his usefulness as an informant working with U.S. intelligence was at an end. Publicity would ensure that.
See how easy that question was to answer
?!!
Now, it may at first glance seem ludicrous that a 24 year old former Marine was connected with U.S. intelligence, but no less an expert than Sen. Richard Schweiker, who was a member of the U.S. Senate Select Committee on Intelligence (and thus could be reasonably labeled an expert on this topic)(
http://en.wikipedia.org/wiki/U.S._Senate...telligence
) said, "
We do know Oswald had intelligence connections. Everywhere you look with him, there're fingerprints of intelligence.
"
So Bugliosi's challenge is easily met. A reason for such a statement on Oswald's part (if he actually did say it) that is just as credible as Bugliosi's reasoning that this showed murderous guilt on Oswald's part.
---
(28)

Oswald then fought the police and tried to pull his revolver out.
This has been disputed, and is based on one police officer, Patrolman M. N. McDonald.
But presuming it were true, it fails to support the theory that Oswald shot the President. Once again, Bugliosi is treating every single event as lending support for his theory. He would be laughed out of court if he tried to make this claim.
This incident simply has no reasonable connection with the murder of JFK
. After all, he didn't pull out a 6.5mm Mannlicher Carcano, did he?
It's claimed that he pulled out a pistol... that indicts most of the policemen there in the Theater... as most of them were also in Dealey Plaza at the time of the murder, and most of them also had or pulled their pistols. See how silly this argument is?
---
(29)

After arrest, Oswald refused to even give his name to arresting officers.
A rather
damaging
admission on Bugliosi's part... since this establishes that Oswald was
NOT
carrying ID in the name of Hidell. The only way the Dallas PD knew who they were dealing with was to open his wallet - that
COULD NOT
have been carrying both Oswald & Hidell ID's... since the police immediately selected the only name that his wallet identified... Lee Harvey Oswald.
It was not until 1973 that a refusal to give your name to an arresting officer became a misdemeanor in Texas (
http://www.statutes.legis.state.tx.us/Do.../PE.38.htm
) – and would never in a court of law be evidence of guilt in a murder case (or any other felony, for that matter)
Bugliosi goes on to state: "
As a pretty consistent general rule, when a person is innocent of a crime, he cooperates with law enforcement.
" But that's simply nonsense... here, for example, is one lawyer's advice:
Quote:If I am innocent, shouldn't I make a statement and tell the police everything I know?
Answer: Absolutely not. When a person is innocent or has a valid defense such as self defense, it is common to want to explain your side of the story to police. However, even if you are innocent it is crucial that you nevertheless invoke your right to an attorney and your right to remain silent.
http://www.agnichlaw.com/yourRights.html
Bugliosi speaks as a prosecutor, and not as a defense attorney. This 'crime' on Oswald's part shows nothing at all.
---
(30)

Oswald made a clenched-fist salute to reporters. (A political gesture in support of Marxism is the argument VB is employing.)
Or he could merely have been showing that he was handcuffed. Speculation on Bugliosi's part
isn't evidence of anything
.
Indeed, the speculation of Warren Commission believers is often used as evidence – but would never be allowed in court. Once again, we see the weakness of Bugliosi's case when he's using nonsense like this to 'prove' guilt.
---
(31)

Oswald refused a lie detector test.
Hearsay. Amusingly, Bugliosi would be the first to argue the inadmissibility of a Lie Detector test that failed to show what he wanted.
Ironically, although not quoted by the Warren Commission believer who compiled this list, Bugliosi goes on to state: "
By contrast, Ruby volunteered to take one.
" So the argument here is that if you're provably guilty of murder, you willingly take a lie-detector test... and if you refuse to take a lie-detector test, that proves you guilty of murder.
Let me repeat that one more time...
If you're provably guilty of murder - you willingly take a lie detector test.
... and if you refuse to take a lie detector test, that proves you guilty of murder...
Only Warren Commission believers can understand and believe this sort of nonsense.
---
(32)

After visiting him on Saturday, Marina came away convinced of Oswald's guilt.
What Bugliosi WON'T tell you is the testimony... here it is:
Mr. RANKIN. When you saw your husband on November 23d, at the police station, did you ask him if he had killed President Kennedy?
Mrs. OSWALD. No.
Mr. RANKIN. Did you ask him at that time if he had killed Officer Tippit?
Mrs. OSWALD. No. I said. "I don't believe that you did that, and everything will turn out well."
After all, I couldn't accuse him--after all, he was my husband.
Mr. RANKIN. And what did he say to that?
Mrs. OSWALD. He said that I should not worry, that everything would turn out well. But I could see by his eyes that he was guilty. Rather, he tried to appear to be brave. However, by his eyes I could tell that he was afraid. This was just a feeling. It is hard to describe.
Mr. RANKIN. Would you help us a little bit by telling us what you saw in his eyes that caused you to think that?
Mrs. OSWALD. He said goodbye to me with his eyes. I knew that. He said that everything would turn out well, but he did not believe it himself.
Mr. RANKIN. How could you tell that?
Mrs. OSWALD. I saw it in his eyes.
Now, this is wonderful nonsense... just the sort of stuff that would never be allowed into court. This is, at it's essence, merely Marina's
OPINION
. Based on nothing that she can pinpoint.
It's hardly the sort of evidence that Bugliosi would put forth if he actually had a strong case...
---
(33)

Oswald's Mannlicher-Carcano rifle was found on the sixth floor of the TSBD.
It's
never been established by credible evidence
that this rifle belonged to Oswald. Now, I know that this will bring howls of complaint from Warren Commission Believers – but it's merely a fact.
Even if one were to assume, for the sake of argument, that this were Oswald's rifle – this is not ironclad evidence of Oswald's guilt. Since he was murdered before he could mount a defense, we have no idea what the circumstances were.
We also have first day affidavits testifying to the finding of a Mauser - and the testimony of Warren Caster that he brought to the TSBD a Mauser... where is Bugliosi?
Once again, we have the presumption of guilt, and only then, looking at the evidence... rather than the other way around.
---
(34)

The mostly intact bullet (CE 399) and two of the fragments (CE567 and CE569) were fired from this rifle.
I would expect that whichever rifle was used, would be tied to the Patsy. The chain of custody on
all these bullets & fragments
is shaky indeed... CE399 probably would not have survived any decent defense attorney's challenges to it.
This also presumes two 'facts' not in evidence … that the Mannlicher Carcano belonged to Oswald, and that it was him who was firing it. You cannot presume the "facts" you wish to use to make the case that your facts are correct.
---
(35)

The three expended shells on the sixth floor were "fired in and ejected from" Oswald's rifle.
This is simply not true. As Thompson pointed out long ago, and anyone can eyeball for themselves, CE543 doesn't have the characteristic 'chamber mark' that all other cartridges known to have been fired from CE2766 had.
You can view CE543 here (extra large photo so you can examine the detail of the 'chamber mark':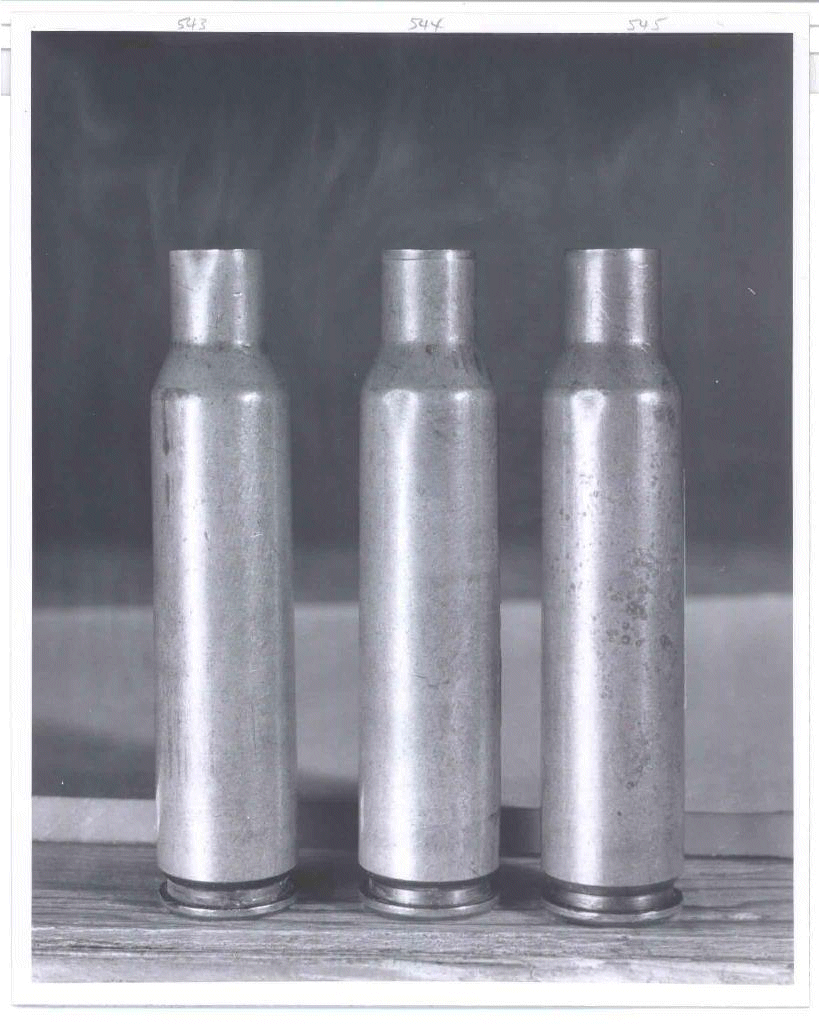 [imgright]http://conspiracyjfkforum.com/images/three-cartridges-sm.jpg[/imgright]For those of you not familiar with the 'chamber mark' argument, I've included a smaller photo to the right, with arrows pointing to the 'chamber marks' left on the shells when fired out of CE-139. Notice the lack of a 'chamber mark' on the cartridge to the left - it was never fired out of CE-139.
You can also search online for other cartridges fired out of the Mannlicher Carcano by the FBI, and note that they also have this characteristic 'chamber mark' that is not seen on CE543. This is evidence that the DPD was involved in evidence swapping - they knew that the majority of the evidence was for three shots, yet they had evidence only for two on 11/22/63 - so they simply created more evidence.
In corroboration of this physical evidence is the simple historical fact that  the DPD turned over the evidence to the FBI on the evening of 11/22/63 - and only TWO cartridges were turned in.
There were not "three" cartridges...
It was
not
"Oswald's rifle"...
Nor does the fact that cartridges fired from a found rifle -
PUT
that rifle in Oswald's hands... it's not evidence against Oswald until you can both show that he owned it, and
that he was in the sniper's nest at the relevant time.
This
"evidence,"
even if it were true
, isn't evidence that Oswald fired the rifle.
---
[imgright]http://conspiracyjfkforum.com/images/bag2.jpg[/imgright]
(36)

A handmade paper bag large enough to carry Oswald's rifle was found in the sniper's nest.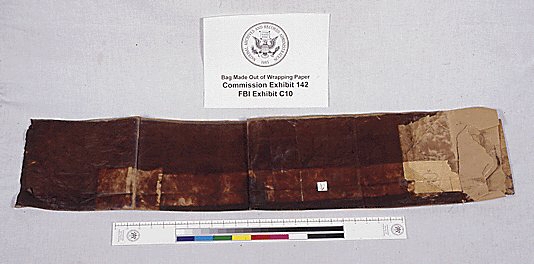 No photograph exists of the paper bag in situ. Ironically, if you *look* at the paper bag, it's quite clear that it was originally simply folded around a book... this was, after all the Texas School BOOK Depository...
And, as has been pointed out, when a Mannlicher Carcano has been broken down (AS WOULD HAVE BEEN NECESSARY), and placed in a bag - "
the first seven or eight inches of the [wooden] stock show obvious signs of severe scoring and scratching. This is caused by the protruding parts of the barrel assembly - principally the trigger - rubbing against it as the bag is moved or carried.
"
As Ian Griggs continues to point out, "
So what is the significance of these facts? Quite simply, no such scratches have ever been reported on the CE 139 rifle. Furthermore, they are not evident in any photographs taken of that rifle. To me, this provides irrefutable physical proof that the rifle was never transported in a disassembled state in a long paper bag as has been claimed by the investigative agencies and the Warren Commission.
" - No Case to Answer, Ian Griggs - page 200.
And, even if we accept, for the purpose of argument, that a paper bag was found – it fails to support any guilt on Oswald's part – the paper bag he was carrying was too short to carry the rifle. Observations that were corroborated by the nature of the observation – that the bag was carried in the palm of the hand, and tucked under Oswald's armpit. This action is simply impossible - were it a rifle in the bag.
Indeed, the fact that a paper bag was found in the mail, addressed to Oswald at a non-existent Dallas address, with metered postage (not stamps), yet short by 12 cents. Then, on Nov 23, a postage due card for 12 cents arrives at Ruth Paine's house – despite this not being the non-existent address found on the package to Oswald. This just absolutely
SCREAMS
frame-up... and Warren Commission believers have to just scratch their head... no explanation in sight.
---
(37)

Oswald's prints were found on boxes that comprised the sniper's nest.
They would be
EXPECTED
to be there... he worked there. This is evidence that indicts many of the TSBD employees... which means it
does not specifically single
out Oswald.
What should NOT be there are prints from an UNKNOWN person who didn't work there - and were never identified. Far from being evidence against Oswald, the fingerprint evidence instead shows that leads weren't followed up by the DPD & FBI. And although Bugliosi had nothing to do with it – this particular topic – the relative paucity of fingerprints on these boxes, led one Warren Commission believer to hypothesize that Oswald was moving the boxes with his forearms.
Yes, you read that right! His forearms. You can't make up things like this! It truly takes a believer to come up with these explanations... :D
---
(38)

Oswald was the sole owner of the revolver found in his possession on arrest.
It's possible... I find the evidence that Oswald owned a pistol far stronger and more credible than that for the Mannlicher Carcano. But owning a pistol that wasn't used to shoot JFK and could not be ballistically matched by the FBI for the Tippit murder is just as credible evidence against Oswald as the thousands of other people in Dallas that day who owned a pistol.
Indeed, the police arresting Oswald all had pistols. The mere possession of a legally owned firearm has never been 'proof' that someone committed a crime.
And even though the evidence is apparently stronger that he owned a pistol, there's still unexplained evidence that mitigates against it, such as the bullet cartridges. For example, see CE 592: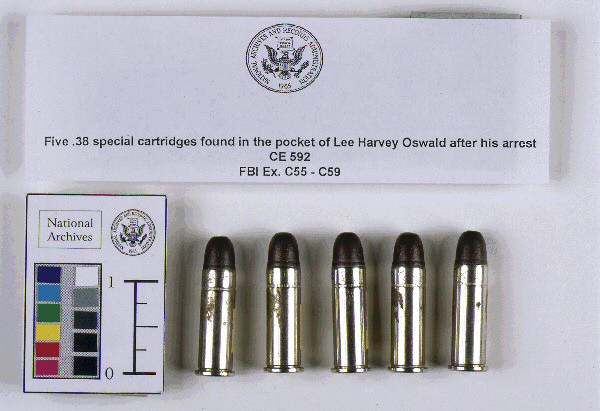 Notice the evidence that these cartridges must have spent time in a gunbelt... yet Oswald owned no gunbelts. This is still unexplained by believers... and it's evidence like this that points away from Oswald owning a pistol... even though I suspect he might have.
---
(39)

The bullets recovered from Tippit's body were consistent with being fired from Oswald's .38.
This is simply another way of saying: "
We couldn't honestly state that we found any matches
". This is one of the biggest stretches the Warren Commission made - they knew they had a fairly weak case against Oswald, so by framing him with the Tippit killing, they believed that they could influence people to believe the killings were somehow related.
But it really makes no sense at all.
The Warren Commission even went to the trouble of 'expert witness shopping' - since their FBI ballistic experts declined to match any Tippit bullets to the alleged Oswald pistol. They found Joseph Nicol willing to match one of the bullets... however, as Dale Myers (no friend of critics) has written:
[Dale Myers Wrote:One ballistic expert, Joseph D. Nicol, did find "sufficient individual characteristics" on one of the four bullets to reach the conclusion that it had been fired from Oswald's revolver to the exclusion of all other weapons. However, none of the eight ballistic experts who have examined the bullets agree with Nicol's positive identification.
You won't find Vincent Bugliosi telling you this...
---
(40)

The four cartridge shells found at the Tippit murder scene were fired from Oswald's revolver.
Chain of custody
issues raise their ugly head again. I'm quite sure that many people are aware that radio transmissions from the scene of the Tippit murder stated that the murderer was armed with an automatic. This is
easily determined
from the cartridges. Revolver cartridges have a rim that's larger than the case body - that stops the cartridge from moving too far into the cylinder chamber. Automatic cartridges, on the other hand, have a rim the *same size* as the case.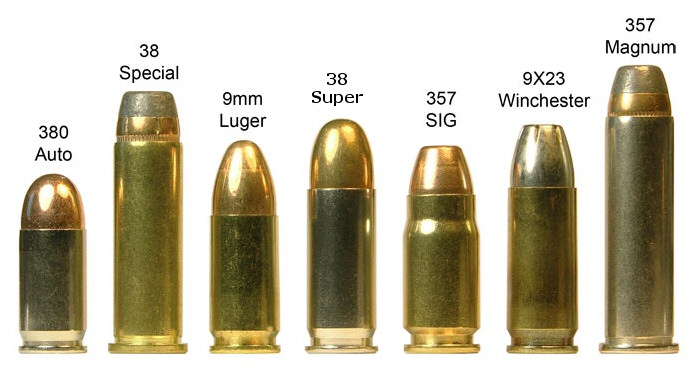 There are two revolver cartridges shown here - can you spot them among the automatic cartridges?
The differences to an experienced police officer are obvious and can VERY QUICKLY be determined... but this caused a problem because Oswald didn't carry an automatic.
---
(41)

A paraffin test on Oswald's hands showed he'd fired a revolver just before his arrest.
No, this simply isn't true, and
Bugliosi knows it
. Common materials that can
also
cause a positive result is paper - and where did Oswald work?? Anyone remember?
Oswald showed negative in the paraffin test of his cheek - and no-one will scream louder than the Warren Commission believers when it comes to denigrating the Paraffin test - yet Bugliosi still brings it out as if it showed that Oswald was a murderer. It would have been far more convincing had they also ran the same test on Frazier, and other TSBD workers - just as a control.
But the object wasn't to discover the truth, but to find anything they could use to bolster their weak case. It's quite disingenuous to proclaim the veracity of the paraffin test in one instance, and denigrate it in the next.
The paraffin evidence
would have been raised by the defense
, not by the prosecution... since it shows that Oswald never fired a rifle, and didn't necessarily show that he fired a pistol.
---
(42)

Oswald left his blue jacket behind in the TSBD.
I've done this myself... left my jacket at work. California weather can be cold & wet in the morning, and wonderful in the afternoon... I wouldn't be surprised to learn that Texas weather can be like that. I wonder why Bugliosi would bring up such a silly claim as this.
Remember, he also believes that Oswald was
WEARING
this jacket in the taxi... and left
ANOTHER
jacket in his mad rush to the theater... it seems, that just like the too many wallets in this case, we have too many jackets. Which has ABSOLUTELY NOTHING to do with whether someone is a murderer or not.
---
(43)

Oswald's tan jacket was found along the path Tippit's killer took.
This jacket was

NEVER

established as Oswald's.
Indeed, we
DON'T EVEN KNOW WHO FOUND THIS JACKET.
That's a pretty huge gap in the chain of custody... and certainly can't be used to 'prove' Oswald's guilt when you cannot even establish who found it, or who owns it.
---
(44)

Oswald's work clipboard was found on the sixth floor of the TSBD.
After an extensive search - this clipboard suddenly appeared a week later. Other than the obvious fact that Oswald
WORKED
there, and should therefore have such items... there's nothing about this clipboard that shows him to be a murderer.
Would the 'finding' of any other order-filler employee's clipboard 'prove' him guilty of murder?
It's interesting to note that the Warren Commission was so flustered with this clipboard, that they told one of their rare
blatant
lies about it... stating that it was 'hidden' when found. (Contradicting the testimony of the employee who found it)
---
(45)

Oswald lied about owning a rifle, and about owning the Mannlicher-Carcano specifically.
You first must show that he actually owned a rifle
before claiming that he lied about owning one. The evidence for his ownership has been shown by researchers to be far less impressive than the Warren Commission made it out to be.
As merely one example: the money order alleged to have used to purchase the rifle - yet had no endorsements on it from any bank. A fact still unexplained by any believer.
---
(46)

Oswald lied about being in the backyard photo where he was holding his rifle.
As in the last issue, the authenticity of these photos has been
credibly
argued against by many researchers, to include experts in the field of photography. The quite devastating fact that the DPD had in their possession a
'cutout' photo
which could have been used in their forgery efforts still hasn't been explained.
Nor has the FBI's attempt to duplicate the shadows - offered as evidence to the Warren Commission - WITH THE HEAD CUT OUT. Now, anyone who knows anything about the issues involved here know that the
shadows
on Oswald's face are critical issues that have never been duplicated. The FBI knew this, quite obviously.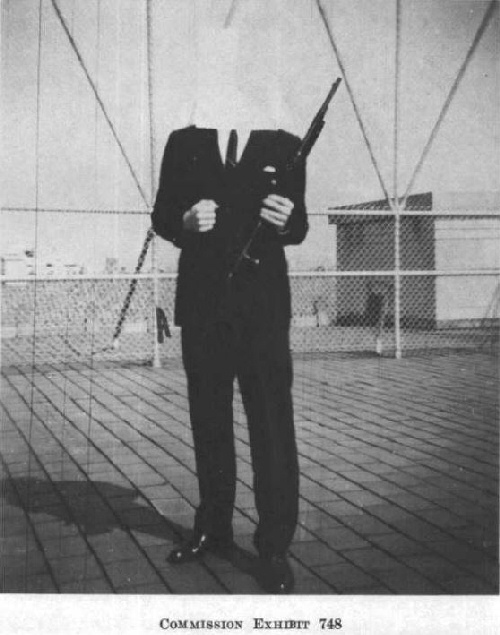 As Mark Lane points out: "
And thus the evidence came full cycle: a photograph doctored by the FBI was admitted in evidence ostensibly to demonstrate that another photograph, discovered by the Dallas police, was genuine.
"
These photos were critical to the efforts of the DPD to convince America that they 'had their man'... and succeeded so well that even many critics don't address the sad state of evidence for Oswald owning a rifle... and the presumed 'lies' about the backyard photos may merely be the honest truth. It's certainly true that with 50 years to do so, no duplication of these photos has ever been made by any Warren Commission Believer.
Let me repeat that...
...
that with 50 years to do so, no duplication of these photos has ever been made by any Warren Commission believer.
---
(47)

Oswald lied about having seen the picture before.
How can the truth be a lie?
First you have to demonstrate the authenticity of these photos.
Despite 50 years in which to do so - believers have not done this.
This statement by Bugliosi, offered as proof that Oswald is guilty, is a classic logical fallacy. First presuming that the backyard photos are legitimate, then using Oswald's denial of them as proof that the photos are not only legitimate, but evidence of his guilt.
Where's Henry Sienzant when you need him? (A believer famous for pointing out logical fallacies, existent or not...)
---
(48)

Oswald lied about living at the place where the picture with the rifle was taken.
This is, of course; hearsay. We don't
KNOW
what Oswald said during interrogations, because no record was ever kept. Nor did anyone first admit to taking any notes - although some notes later showed up.
Without the ability to cross-examine Oswald, we don't
KNOW
what any such denial means, even if true. How was the question worded? How EXACTLY did he answer it? What did he mean by his answer?
Let's assume just for the sake of argument that he flat lied about living at a prior address... how would that support the theory that he's guilty of murder?
Was the murder committed AT that address?
Was there some connection with that address that would have offered support to the prosecution?
---
(49)

Oswald lied about telling Wesley Frazier the curtain rod story.
Another classic logical fallacy. Bugliosi is presuming that Frazier told the truth, is presuming that Oswald denied it, and is presuming that Oswald didn't have curtain rods.
Each of these presumptions can be challenged.
We know now that there
WERE
curtain rods involved in this historical event – a fact long denied by Warren Commission apologists. So where did they come from?
And once again, let's presume just for the sake of argument that Oswald did NOT have curtain rods, and lied to Frazier - claiming to have curtain rods. How would such a scenario prove that Oswald is guilty of murder?
Did Oswald beat the President to death with a curtain rod?
---
(50)

Oswald lied about putting a long package into Frazier's car that morning.
It seems tiresome to keep pointing out the obvious.
We don't KNOW what Oswald said - this is hearsay evidence.

We don't KNOW that he had a 'long package' - there's eyewitness testimony stating that he did not. And evidence that he ate a lunch that he ordinarily brought with him.

We CERTAINLY don't know that any such package was long enough to contain a rifle, indeed, the most persuasive and corroborated evidence is that it was NOT long enough.

Were we to accept for the sake of argument that Oswald placed a "long package" in Frazier's car, then lied about it, how would this prove he murdered the President?

---
(51)

Oswald told police the only thing he'd brought to work that morning was his lunch.
Once again... do we know what he actually said? This is based on hearsay, but it's a fact that Carolyn Arnold stated: "
Oswald was sitting in one of the booth seats on the right hand side of the room as you go in. He was alone as usual and appeared to be having lunch. I did not speak to him but I recognized him clearly.
"
http://jfk.hood.edu/Collection/Weisberg%...m%2027.pdf
The obvious question arises... if he normally brought his lunch, as
testified by Jarman
,
how credible is it that Oswald must have been lying about bringing his lunch to work? Isn't it far more likely that he did what he normally did?
---
(52)

Oswald lied about having lunch on the first floor with two other employees.
This is, indeed,
a lie on Bugliosi's part.
He cannot be unaware of the evidence for this. The Warren Commission relied on J.W. Fritz's testimony that Oswald stated he'd had lunch with two other employees.
http://www.maryferrell.org/mffweb/archiv...geId=13421
The Warren Commission, as well as Bugliosi, then cite the two employees, Junior Jarman and Harold Norman, as denying that they'd eaten lunch with Oswald.
But thirty years later... Fritz' brief handwritten notes appeared, and all it said was:
"say two negr. came in, one Jr.- + short negro-."
http://www.maryferrell.org/mffweb/archiv...eId=433843
So Fritz's own notes fail to say what he testified to... and Bugliosi surely knew this. But even more importantly, there were two FBI agents also present, who had filed a written report on this, and stated that what was actually said was:
James Bookhout Wrote:On November 22, 1963, he had eaten lunch in the lunch room alone, but recalled possibly two Negro employees walking through the room during this period. He stated possibly one of these employees was called "Junior" and the other was a short individual whose name he could not recall but whom he would be able to recognize. - http://www.maryferrell.org/mffweb/archiv...geId=74046
Notice that this statement is
completely in accord with Fritz' hand written note
, and completely contradicted by his testimony.
So the truth is quite clear - Oswald never said he was having lunch on the first floor with two other employees - and Bugliosi could not possibly have been unaware of this fact.
Yet he uses this lie as evidence that Oswald was guilty of murder.
This isn't the only time that Bugliosi has been caught lying about the evidence –
but it's particularly despicable that no Warren Commission believer has disavowed this lie on Bugliosi's part.
---
(53)

Oswald told Fritz he had bought his .38 caliber Smith & Wesson revolver in Fort Worth, when he actually purchased it from a mail-order house in Los Angeles.
This is another one of those twisted tales... first let's look at Frit